November 2020 Fund and Market Update.
The UK housing market has proven to be robust again this month. Capital values have increased across all regions, and demand for good quality rental properties remains high.
The Fund delivered its highest standalone monthly performance since July 2018 this month, driven by a 0.55% increase in property valuations and another month of strong rent collection.
This is the sixth consecutive month that the Standing Independent Valuer, CBRE, has increased valuations on the property portfolio, but it was notable that they had sufficient comparable data available this month to uplift valuations on 41 of the Fund's 204 properties in November.
As we head towards the end of 2020 and obtain clarification of the UK's post-Brexit position and the roll-out of successful Covid-19 vaccines, Stuart Springham looks at what this could mean for the housing market and the Fund in 2021.
The document can be downloaded by clicking on the image below.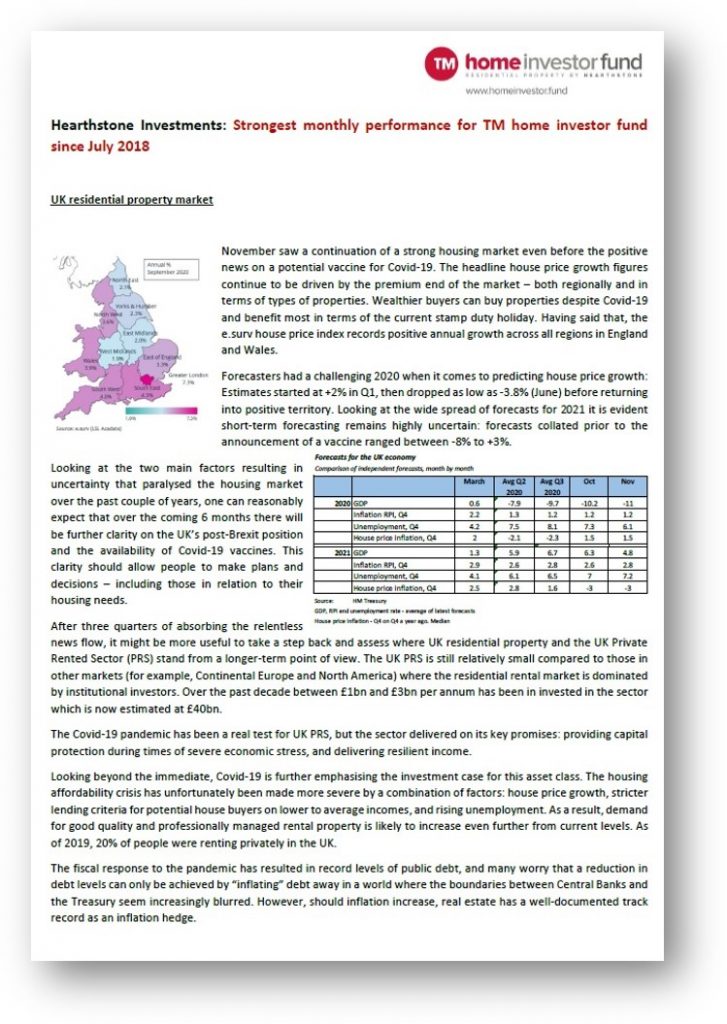 A detailed list of the Fund's property portfolio and cash holdings is available in the Portfolio Summary document.
The latest factsheets can be downloaded from our library here.
---
Important Information
This document is not a prospectus, invitation to invest or advice. Investors may get back less than the amount invested. Information on past performance is not necessarily a guide to future performance. The value of investments in the fund can go down, and there can be no assurance that any appreciation in the value of investments will occur.
Residential property values are affected by factors such as interest rates, economic growth, fluctuations in property yields and tenant default. Property investments are relatively illiquid compared to bonds and equities, and can take a significant amount of time to trade.
Hearthstone Investments Ltd is the parent company of the Hearthstone Investments Group. Regulated business is carried out by Hearthstone Asset Management Limited. Hearthstone Asset Management Limited is an appointed representative of Thesis Asset Management Limited which is authorised and regulated by the Financial Conduct Authority (114354). Hearthstone Investments Ltd (06379066) and Hearthstone Asset Management Limited (07458920) are both registered in England and Wales. The registered office for both companies is c/o Waterstone Company Secretaries Ltd Third Floor, 5 St. Bride Street, London, United Kingdom, EC4A 4AS.
Thesis Unit Trust Management Limited is the Authorised Corporate Director of the TM home investor fund. Authorised and regulated by the Financial Conduct Authority (186882).